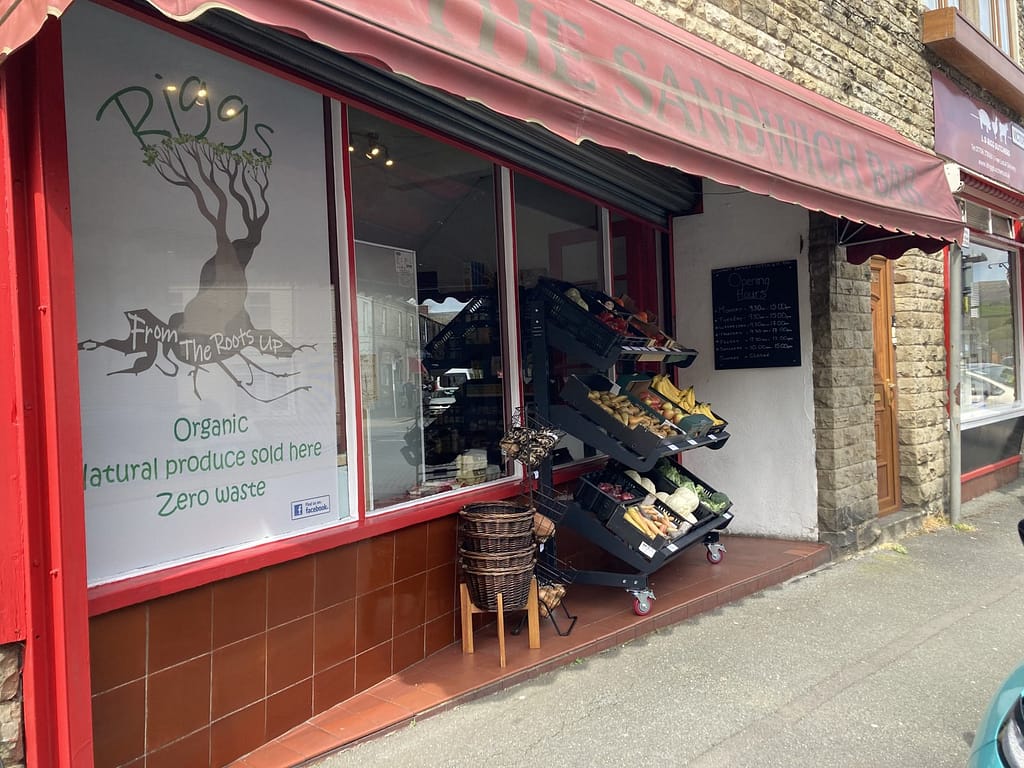 Littleborough's Eco-friendly, zero-waste organic grocery store: Riggs From The Roots Up
Riggs From The Roots Up, an eco-friendly zero-waste store located in the heart of Littleborough. It is a family-run business committed to offering customers products that are both good for the environment and for their health. The store offers a range of organic and zero-waste products. These fruits, vegetables, dairy, and meat products are from local farmers who prioritise sustainable and ethical practices.
Zero-waste approach
Customers looking for an eco-friendly zero-waste store can take advantage of the store's bulk purchasing option for dry goods such as beans, grains, and nuts to minimise packaging waste. Riggs From The Roots Up is also known for its commitment to zero-waste packaging. They provide reusable bags and containers for purchase, for instance, made from eco-friendly materials like cotton and bamboo. Customers can indeed bring their own containers to the store to fill up with items like shampoo, body wash, cleaning products, and laundry detergent.
The store sources products locally to minimise transportation and reduce its carbon footprint. Riggs From The Roots Up also offers educational resources to help customers make informed choices about the products they purchase. The knowledgeable and friendly staff are always available to provide advice and answer questions.
In addition to its focus on sustainability and eco-friendliness, Riggs From The Roots Up is also committed to offering high-quality products that are good for your health. By offering organic fruits and vegetables, as well as grass-fed meat and dairy products, the store aims to provide customers with the most nutritious and healthy options available.
Community involvement
Riggs From The Roots Up actively participates in local events and initiatives that promote sustainability and environmental awareness. They are indeed demonstrating their commitment to building a more sustainable and resilient community.
Whether you're new to eco-friendly living or a seasoned pro, Riggs From The Roots Up is an excellent destination. For high-quality, environmentally friendly products, and in the Littleborough area, be sure to check them out.
So, if you are searching for an eco-friendly zero-waste store, then check out for yourself what this eco-friendly grocery store has to offer. With its friendly staff, high-quality products, and commitment to sustainability, it's certain to become a favourite among those who value the environment and their health. Overall, they provide exceptional service and are very friendly and helpful. Highly recommended!
Update:
Due to low levels of interest from the local community, the shop has sadly ceased trading. However, some items are still available from L.D Rigg Butchers on the corner (owned by the same family). Please do support them by buying your organic and vegan products from them!
Location: 52 Victoria Street, Littleborough, United Kingdom
Contact: 01706 418936
Opening Hours:
Monday: 09:30 – 15.00
Tuesday: 09:30 – 15.00
Wednesday: 09:30 – 17.00
Thursday: 09:30 – 17.00
Friday: 09:30 – 17.00
Saturday: 09:30 – 15.00
Facebook: Riggs from the Roots Up
Note: Google Maps says no. 54 Victoria Street, but it's actually 52!